Jason Thomas and Andrew Dunn, Charlotte Agenda
Apex SouthPark, one of SouthPark's most ambitious mixed-use projects, is now underway.
SouthPark United Methodist Church, known to many as the "Ski Slope Church," recently sold their property to developers. It's located at the corner of Sharon and Morrison, across Morrison from Harris Teeter and Sharon from Cowfish.
What's being built: Expect a new mixed-use development with 73,000 square feet of retail and restaurant space, a 75-room Hyatt Centric boutique hotel, 355 luxury apartments, four-level parking garage and a brand new SouthPark Church. The project will be completed in phases with most elements targeting a 2020 completion. The developers behind the project are Ascentris and Childress Klein.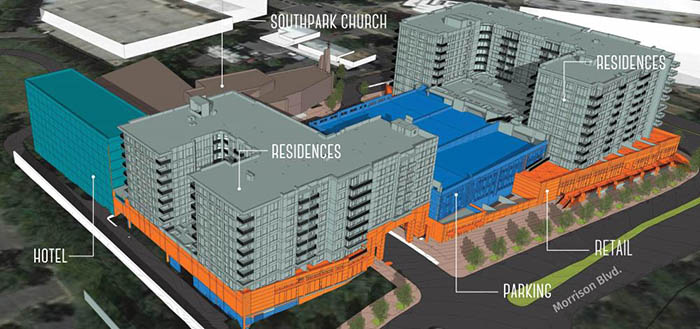 Images courtesy of Rule Joy Trammell + Rubio, Ascentris and Childress Klein
This article was originally posted in the Charlotte Agenda.