Andrew Dunn, Charlotte Agenda
A new "chicken shack" concept from Charlotte restaurateur Jim Noble will be opening off Freedom Drive by the end of the year.
Called "Bossy Beaut's Chicken Shack," the restaurant is inspired by Noble's great-aunt Beulah and her tradition of Sunday chicken after church in rural North Carolina.
Noble also operates Rooster's Wood-Fired Kitchen and King's Kitchen — and he will soon open Copain, a bakery and market concept in SouthPark.
If this new concept sounds familiar, there's a reason: King's Kitchen has a lunch entree called "Aunt Beaut's Pan Fried Chicken."
Look for a simple menu: Chicken sandwich, slaw, salad and fries — plus a custom beer from Hyde Brewing.
The chicken is brined and then buttermilk-soaked before being seasoned with salt and pepper, floured and deep-fried.
The chicken shack will be on the same property as Noble Smoke, which is set to open around March 2019.
People hanging out in the beer garden at Noble Smoke will be able to run up a small hill to put in a chicken order.
There won't be too much overlap in the menu. Noble Smoke will be focusing on pork and brisket.
Look for Bossy Beaut's to ultimately expand throughout the Southeast.
Fried chicken is a Southern tradition, so expect this fast-casual concept to do well regionally.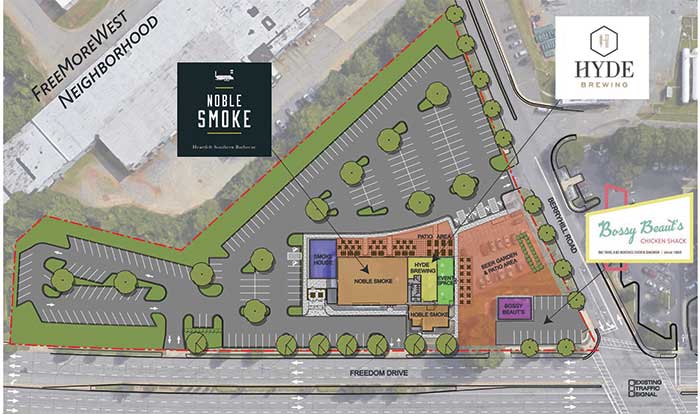 This article was originally posted in the Charlotte Agenda.